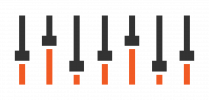 BANDS | MUSIC FOR FILM & TV
Need a Producer?
Have you been writing and have an idea that you'd like to work out in a studio or with a little extra help? Do you have a solid mix that's just missing a few pieces or has a few too many? Let us help you build your music and podcasts into something you can really be proud of. We can work in or out of the box.
MusiC | PODCASTS | FEATURE FILM & TV
Do your mixes lack something you can't put your finger on? Let us feed your tired and hungry stems and polish them into the pure sweet sounds—or the dirty funky sounds you always hoped they could be.
Don't let your podcast fall short on sound design. Let your listeners feel part of the conversation with a great mix.
We'll help you get the sound FX, dialogue and music to blend just right. Dialogue editing is paramount to intelligibility.
Hi-Res Digital Mastering & Apple Digital Masters. We can encode for any distribution platform. We are an approved for and provide Apple Digital Masters.
We will make sure your music will compete with commercial releases in your genre.
Make sure your mixes work – lighten up those file sizes with optimal compression for streaming audio.